APC13 in Perth
by Robyn Rosenfeldt
With one hundred and twenty permies, attending over fifty workshops over three days, APC13 (Australasian Permaculture Convergence) was a chance for some of the best minds in permaculture to share ideas, experiences and knowledge with one another not to mention many meals where some of the best discussions happened.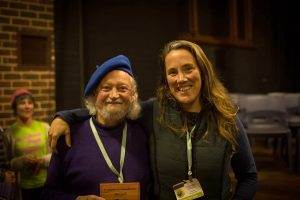 The APC is held every two years and this year it was in Perth
The day prior to the convergence, Permaculture West put on Permafest a day of talks, stalls, food and music.
It was estimated there were 4000 people who came to the event all with a common interest in permaculture. I spread the Pip word to a whole new crowd and I got to meet all the WA crew.
The highlight of the day was definitely rocking out to Charlie Mgee and the Formidable Vegetable Sound System. It was great to see everyone letting loose and getting to down to the funky beats. Even David Holmgren was going off, probably more so than anyone.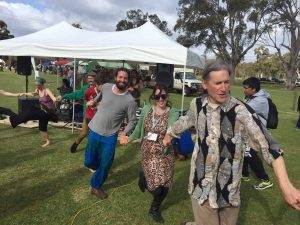 The crowds left, leaving behind just those of us attending the convergence.
The opening keynote address was by Anni Mac, a futurist talking about her take on what the future may hold and the role technology will play in that. She believes technology is the future and we should be embracing it and she focused on Gen Z and the impact they are going to have on our future and technology.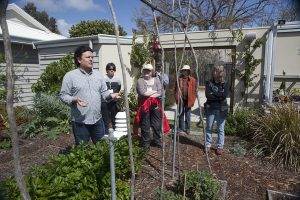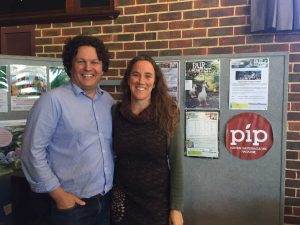 The keynotes were from David Holmgren and Josh Byrne, both with quite different approaches to permaculture and the problems that we face.
David Holmgren was talking about staying where we are, mostly in our urban space and retrofitting the suburbs and the buildings we already have. The current trends see larger houses with less people in each and people spending less time at home. David talks about having more people in households, having more of a home based economy, working from home, consuming less, being more self reliant and growing and producing more of our own food. This is all in his book coming out next year; Retrosuburbia.
Josh Byrne is looking at doing new developments in urban spaces that are thoughtfully designed for both ecological and social benefit. From his own development where he lives that is well documented on Gardening Australia and on his website www.joshshouse.com.au, to larger scale developments that accommodate around fifty people.
He also showed us examples around Perth of growing food in the city that are open and available to the main stream to inspire and educate people in the art of growing food.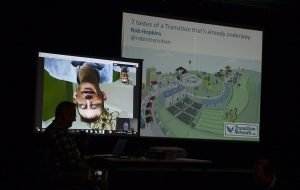 We also had a keynote talk by Rob Hopkins who for some inexplicable reason was skyping in upside down. Must have been because we are down under. Rob Hopkins talked about the transition town movement and seven tastes of a transition that's already underway. Looking at what we can do to help transition from where we are to a more self-reliant economy.
There were so many wonderful workshops to attend and unfortunately you had to choose as there were three or four running at any one time. Some that I attended were:
Robin Clayfield sharing her ideas and knowledge on teaching permaculture creatively.
Cecelia Macaulay talking permaculture in the home and ways to apply permaculture design and principles to have a harmonious uncluttered home life.
Charlie Mgee's workshop about using art to spread ideas and the link to ancient cultures who used song lines to pass on knowledge and history.
Robina McCurdy talking about permaculture in schools and some of the great projects she has run in New Zealand and the awesome outcomes that those schools have had. Very inspiring, I would love to try and implement at my kids' school.
Gillian Kozicki workshop on the connectivity of fermenting. I'm reinspired to get the fermented drinks happening and make more kimchi!!!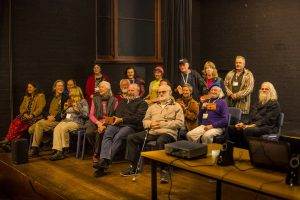 Tuesday night we had the Permaculture Elders awards. Congratulations to all those that received an award. A special congrats to Phil Gall, my buddy from Bermagui. Full list at end of article.
We also had the bids for who will host APC14. It was between, Brisbane, Auckland NZ and South East NSW. I had been sent as the representative for NSW and along with April Samson Kelly, Paul Kelly, Phil Gall and Cally Brennan we managed to convince the crowd that it should be in our neck of the woods. So April 2018 will see the 14th Australasian Permaculture Convergence being held in the south east region of NSW. Watch this space.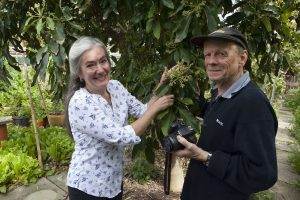 The day after the convergence I did the tours of urban properties around Perth. We started with Jetto's Patch, which some of you may be familiar with from Facebook. Dario and Michele Franzinelli have converted dry barren lawn with poor soil to a forest of food with fruit trees and vegetables and all sorts of interesting and unusual species all growing mixed together following the patterns of nature on a 1500 sqm block.
The Green Swing is an eco urban development in the Perth suburb. Two couples have subdivided and built multiple eco homes on the one block using ecological design principles.
Next up Josh's Place, a case study for implementing ecological design into a standard suburban property using standard products and services to show how the average person can reduce their water and energy needs. All the research and findings available online.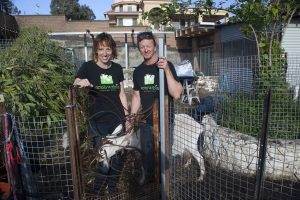 Lastly we went to Ecoburbia in Fremantle to see where a couple have decided to create community and affordable housing in their own home. They have bought a large old Italian house high on the hill overlooking the ocean and rather than knocking it down and subdividing the block, they have subdivided the existing home into five separate self contained spaces for people to live; creating affordable housing, an income for themselves and community. In their back garden they have a huge productive vegie garden, two milking goats and chooks.
A very inspiring day and great to travel around Perth and see examples of all the great things that are going on.
Winners of the elders awards were:
Peter Allen (Pete the Permie) VIC
Graham Brookman SA
Anne Marie Brookman SA
Dave Coleman WA
Jude Fanton NSW (Seedsavers)
Michel Fanton NSW (Seedsavers)
Julie Firth WA
Phil Gall NSW
Russ Grayson NSW
Fiona Campbell NSW
Max Lindeggar QLD
Robina McCurdy NZ
Janet Milligan QLD
Rosemary Morrow NSW
Jeff Nugent WA
Warwick Rowell WA
Geral Shepperson WA
Julie
Terry White VIC
Bruce Zell QLD
Criteria: over 55 and has been active for over 25 years.
Community Service Awards
Significant service to the community. 10 years or more active service
Silvia Allen VIC
Peter Austin WA
Dan Deighton QLD
Aaron Sorenson NSW